The Diet Calorie Calculator is an innovative and user-friendly WordPress plugin. The plugin is designed to empower health-conscious individuals with a personalized approach to managing their daily caloric intake. This WordPress plugin will integrate seamlessly into any WordPress website, providing users with a practical tool to set and track their calorie goals based on their dietary needs, fitness goals, and activity levels.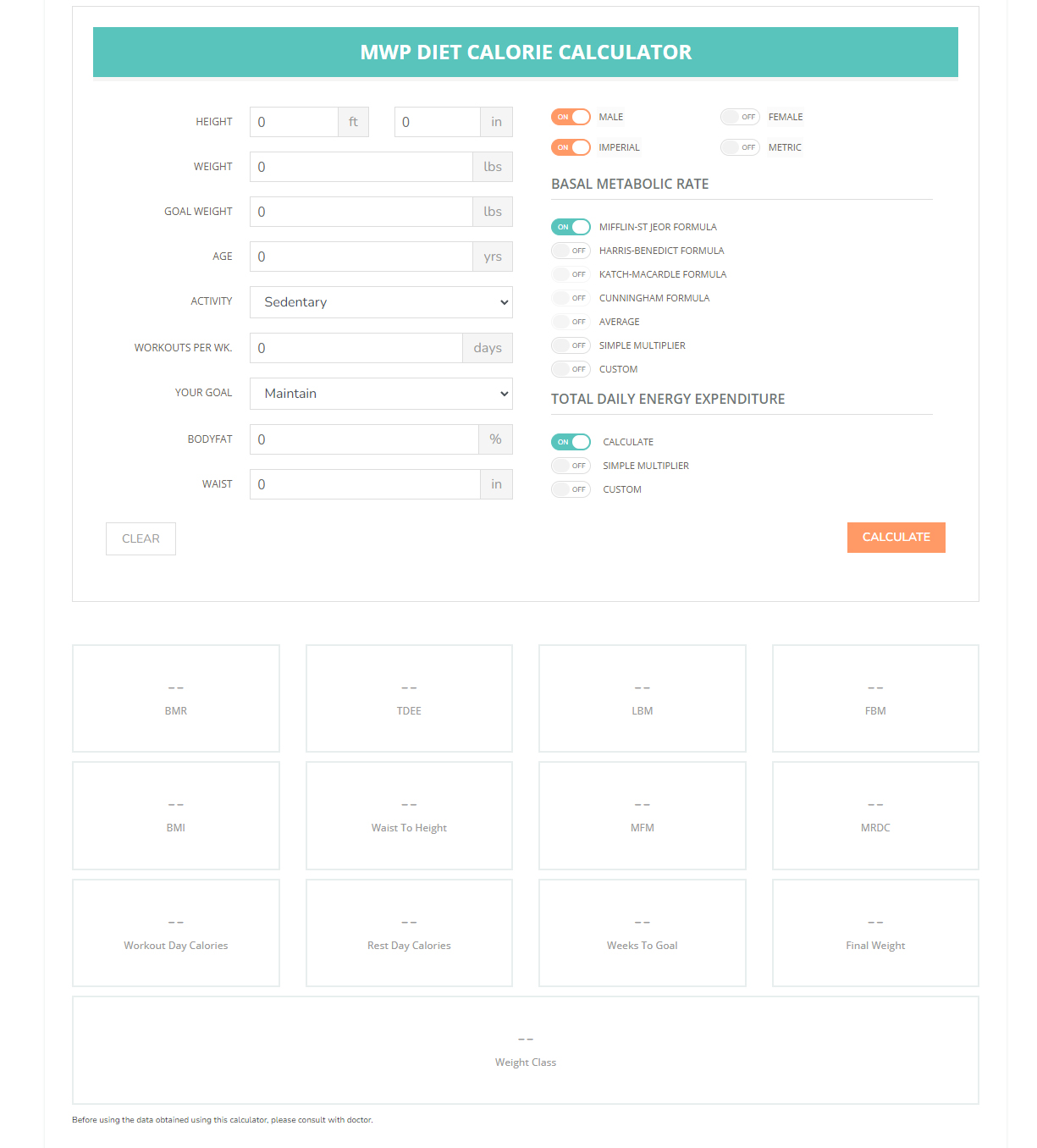 Diet Calorie Calculator Key Features:
Personalized Calorie Goals: Users can input their age, weight, height, gender, and activity level to generate a personalized daily caloric intake goal (for the rest and workout days), tailored to their specific needs.
Comprehensive Color Options: Provides an extensive array of color options, enabling users to customize every element of the plugin including headers, backgrounds, text, buttons, results, and more.
Control over displayed results sections: The customers can control which result section to show/hide depending on their needs.
Integrations: Supports integrations with Elementor, WPBakery, and Gutenberg.
Mobile Responsive: The Diet Calorie Calculator will be fully optimized for mobile devices, allowing users to access and manage their calorie intake numbers on the go.
Translations: Compatible with WPML and supports RTL.
The plugin allows you to calculate the next parameters:
BMR – Basal Metabolic Rate
TDEE – Total Daily Energy Expenditure
BMI – Body Mass Index
LBM – Lean Body Mass
FBM – Fat Body Mass
WTH – Waist to Height
MFM – Maximum Fat Metabolism
MRDC – Minimum Recommended Daily Calories
Workout Calories – calories to intake during the workout days
Rest Calories – calories to intake during the rest days
Weeks to Goal – Number of weeks to reach goal weight
Weight Class
By providing a powerful and user-friendly calorie management tool, the Diet Calorie Calculator WordPress plugin aims to empower individuals to make informed decisions about their dietary choices and more balanced lifestyles. Whether it's weight loss, weight maintenance, or muscle gain. this plugin will be a valuable addition to any WordPress site, catering to health enthusiasts and nutrition coaches.
Tech stack
WordPress, PHP, HTML, CSS, JavaScript, jQuery, AJAX, Bootstrap 5