It's a WordPress plugin that allows you to calculate the amount of calories which is needed to maintain your daily activities. Also, it can help you to calculate your daily calorie requirement for maintaining weight, weight loss, and weight gain, using different metric systems (metric or imperial). By the way, it also has possibilities to calculate calories for workout day and rest day calories.
In addition to the above properties, the MWP Diet Calories Calculator has a lot of parameters that can be useful for you during the planning of your diet.
So what are we have out of the box, let's see…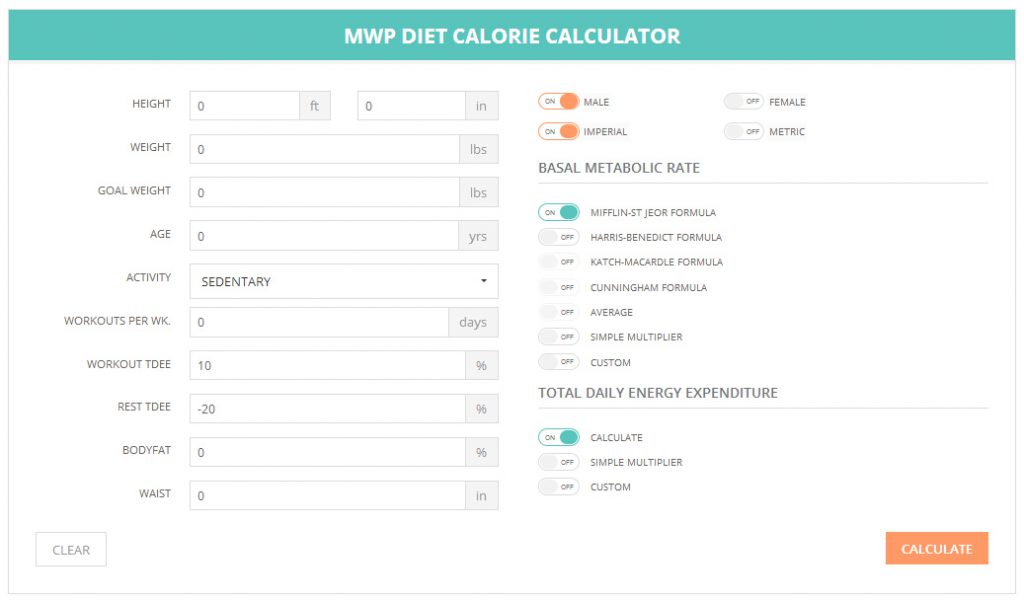 Our WordPress Diet Calories Calculator suggests to you the next parameters (out of the box), which can be calculated:
BMR – Basal Metabolic Rate
TDEE – Total Daily Energy Expenditure
BMI – Body Mass Index
LBM – Lean Body Mass
FBM – Fat Body Mass
WTH – Waist to Height
MFM – Maximum Fat Metabolism
MRDC – Minimum Recommended Daily Calories
Workout Calories
Rest Calories
Weeks to Goal – Number of weeks to reach goal weight
Obesity Class
And all this functionality contains a customizable form that can be placed in any part of a post or page with the help of WordPress shortcode.
MWP Diet Calories Calculator has the next features:
It's Responsive and built with the Bootstrap 4 framework
It contains Shortcode
TinyMCE Shortcode
AJAX Calculations (the form processed without reloading)
Ready for translation
Contains over 100 Google fonts
Colors customization
Admin section
You can choose which parameter to calculate for the diet result section
Calculating in Imperial(in, lbs) and Metric(cm, kg) system
You can calculate BMR using different methods: Mifflin-St Jeor, Harris-Benedict, Katch-Macardle, Cunningham
AVAILABLE TRANSLATIONS
English (Default)
Spanish (Spain), es_ES
ADDONS